El Altar Trek in Sangay National Park
El Altar is an extinct volcano in Sangay National Park surrounded by multicoloured lagoons, giant waterfalls and glacial lakes.
It was once one of the tallest mountains on the planet until a giant eruption destroyed its summit over 500 years ago and created its famous cathedral altar shape of 9 peaks around a crater lake.
There are two treks you can do to El Altar – an overnight trek to the "yellow lagoon" crater lake in the middle of the extinct volcano, or the other spectacular 3 day hike that climbs the green valleys carved by glaciers into the mountainous terrain full of waterfalls and multi-coloured glacial lagoons inside Sangay National Park.
The highest point in the trek reaches the 4,800 meter snowline below El Altars glacial peaks where we will see silver, orange, and blue lagoons as well as spectacular views of Chimborazo and Sangay in clear weather.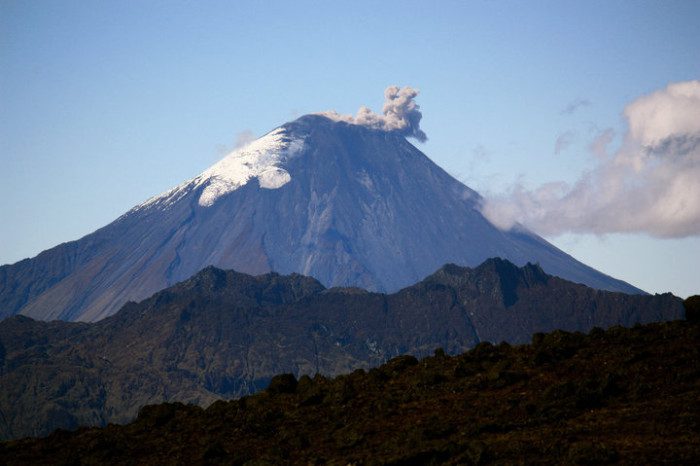 OVERNIGHT TREK TO EL ALTAR YELLOW LAGOON
– 2 days $225 USD per person
(minimum of 2 people)
– 3 Days $375 per person
THREE DAY EL ALTAR TREK
DAY 1:
We walk up the valley that was created by glacier millions of years ago with a giant 200-meter waterfall and the peaks of El Altar in the distance.
DAY 2:
We leave the tents at the campsite and climb up to 4,500 meters and explore the many waterfalls and five multicoloured lagoons (the star lagoon, the mandur lagoon, blue lagoon, black lagoon, and green lagoon) underneath the 5,319m (17,451 ft) peak of El Altar.
DAY 3:
We go back down the valley on a plateau that has an amazing view of Mount Chimborazo and follow the river to the entrance of Sangay National Park where we return to Riobamba.
PRICE OF 3 DAY EL ALTAR TREK
$350 USD per person
(minimum of 2 people)
Price Includes:
– Transport from Riobamba to Sangay National Park and back
– Camping Equipment including tents, sleeping bags, sleeping mats
– All food including meals for breakfast lunch and dinner and snacks
* Please tell us if you are a vegetarian
Transport from Riobamba to Sangay National Park and back
Camping Equipment including  sleeping bags, sleeping mats
Carrying mules
National Park permits
Guides
All food including meals for breakfast lunch and dinner and snacks (Please tell us if you are a vegetarian)
2 Days

per person
$275 USD
3 Days

per person
$375 USD
4 Days

per person
$475 USD